From Brazil to France travelling through New Zealand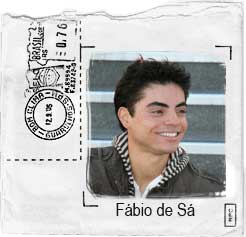 Everything began in Brazil
Since I was a child I always loved art: especially drawing and painting. I still remember my art teacher Rosângela. During one of these classes she chose the painting Water Lilies of the very famous French artist Claude Monet. I painted the canvas with the very little skills I had at the time. When I was a teenager I decided to take painting classes to improve my skills. Some months later I began painting my own ideas, a world of my imagination. It was a very pleasant period of my life, learning and developing news skills.
Destination: New Zealand
In 2005 I was graduated in Hospitality from the Senac in Brazil. I decided to leave my country and see the world. I was only 19 years old when I arrived in New Zealand. At that time I had no idea how much my life would change. During the three years I lived there I had a lot of different work experiences such as hotel receptionist, interpreter Portuguese/English for the Queenstown Courthouse and even a volunteer at the Queenstown Citizens Advice Bureau. New Zealand will always be in my heart. I had the chance to discover the world.
 Landing in France
In 2009 I was brought to France, a country and culture that was new to me. Art sent me an invitation and inspired me to create again. I started painting again and made some exhibitions in Gap and in Embrun. Working in hospitality during these years, Whenener I had some extra time, I drew, painted and created my own art. In 2012 I finished French classes at the UELAS school in Gap . I will never be able to thank my French teacher Betty Faure enough for her patience and hardwork. I wouldn't have the level of French I have now without her.
The beginning of design
In 2016, I graduated in web design from the Web Innovation School in Briançon, and I started working as a freelance designer. That year was very special to me as I was granted French citizenship. My dear France, you welcomed me with love and kindness. I thank you and will love you forever.
Creativity and ecology
In 2018, I worked on my first project with WWF France. I felt very honored and happy for that opportunity. I always feel the need of adding nature and solidarity to my work. It's quite hard for me to work in a different way.
The textile design
In 2017, I decided to learn something new. That's when the textile design idea came. I graduated from the school Lignes & Formations in 2019 with an average grade of 17,2/20. That same year, I was chosen among the 18 finalists to be part of the Fashion show Haute Couture in Paris, organised annually by the school Skill & You. I created the collection "Les vies de l'eau" (The lives of water) inspired by the "Maison" Kenzo.